Two great writers deaths that were trumped by dying on the same day John F. Kennedy was assassinated
Undoubtedly buried in the trauma and drama of the news that fateful day, November 22, 1963 two of the world's (imo) greatest writers left the earth.
Judging by their work... it's my guess they'd have been amused by the relative obscurity in which they departed and or became part of terra firma because what they left behind in a literary sense would last for eternity
Aldous
Huxley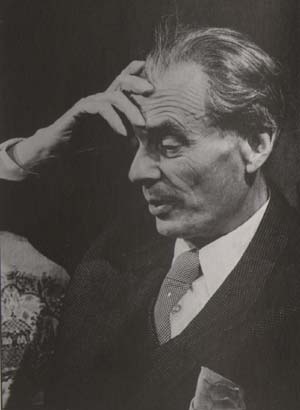 Aldous Leonard Huxley
(
July 26
,
1894
–
November 22
,
1963
) was an
English
writer
and one of the most prominent members of the famous
Huxley family
. He spent the latter part of his life in the
United States
, living in
Los Angeles
from
1937
until his death in
1963
. Best known for his
novels
and wide-ranging output of
essays
, he also published
short stories
,
poetry
,
travel writing
, and
film
stories and scripts. Through his novels and essays Huxley functioned as an examiner and sometimes critic of social mores, norms and ideals. Huxley was a
humanist
but was also interested towards the end of his life in spiritual subjects such as
parapsychology
and
philosophical
mysticism
. By the end of his life Huxley was considered, in some academic circles, a leader of modern thought and an intellectual of the highest rank.
"Two thousand pharmacologists and bio-chemists were subsidized. Six years later it was being produced commercially. The perfect drug. Euphoric, narcotic, pleasantly hallucinant. All the advantages of Christianity and alcohol; none of their defects. Take a holiday from reality whenever you like, and come back without so much as a headache or a mythology. Stability was practically assured."

ALDOUS HUXLEY ( Brave New World )



C. S. Lewis
Clive Staples "Jack" Lewis (29 November 1898 – 22 November 1963), commonly referred to as C. S. Lewis, was an Irish author and scholar. Lewis is known for his work on medieval literature, Christian apologetics, literary criticism, and fiction. He is best known today for his series The Chronicles of Narnia.
Lewis was a close friend of J. R. R. Tolkien, the author of The Lord of the Rings. Both authors were leading figures in the English faculty at Oxford University and in the informal Oxford literary group known as the "Inklings". According to his memoir Surprised by Joy, Lewis had been baptised in the Church of Ireland at birth, but fell away from his faith during his adolescence. Owing to the influence of Tolkien and other friends, at about the age of 30, Lewis re-converted to Christianity, becoming "a very ordinary layman of the Church of England" (Lewis 1952, p. 6). His conversion had a profound effect on his work, and his wartime radio broadcasts on the subject of Christianity brought him wide acclaim. Later in life he married the American writer Joy Gresham, who died of bone cancer four years later at the age of 45.
Lewis's works have been translated into more than 30 languages and sell more than a million copies a year. The books that comprise The Chronicles of Narnia have sold more than 100 million copies. Many stage and screen adaptations of Lewis's works have also been produced, the most notable of which is the 2005 Disney film adaptation of The Lion, the Witch and the Wardrobe.
Don't use words too big for the subject. Don't say "infinitely" when you mean "very"; otherwise you'll have no word left when you want to talk about something really infinite.
C. S. Lewis
------------------------------------------------------------------------------------------
So in regards to that last quote I guess I should revise my opinion about their divergent works lasting for eternity... but otherwise suggest they will hopefuly last for a 'very' long time to come.